Today I am going to share a swatch comparison between MAC's "Club" eyeshadow (which is a great duochrome that I featured in my last EOTD here) and the "Definer" shadow on the right-hand side of Wet N Wild's "Comfort Zone" palette, the drugstore dupe of MAC's "Club."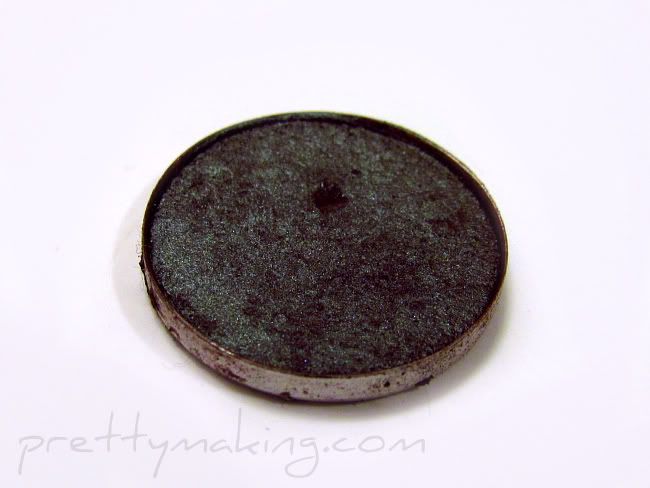 MAC's "Club"
– It looks pretty beat up. It's just well-loved.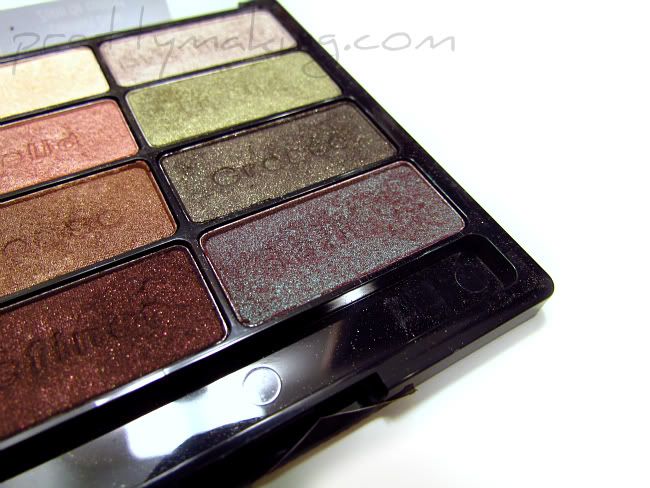 Wet N Wild's "Comfort Zone" Palette, Definer (right side) – Well… it *used* to say Definer.

The MAC shadow retails for $15 USD (or $11.50 USD if you purchase the refill pan), and can be purchased on MAC's website or at MAC standalone stores and counters. The Wet N Wild "Comfort Zone" palette (which has 8 shadows) retails for $4.99 USD and can be purchased at drugstores such as Walmart, Walgreens, etc.
Below are a series of swatches. The first set is swatched over Too Faced Shadow Insurance (original) alone, and the second set is over Too Faced Shadow Insurance (original) but with a black base. I used Maybelline Eye Studio Lasting Drama Gel Liner as the base, in "Blackest Black." In all swatches, the Wet N Wild shadow is on the left, and the MAC shadow is on the right. My thoughts comparing the two are summarized after each set of swatches.
Too Faced Shadow Insurance alone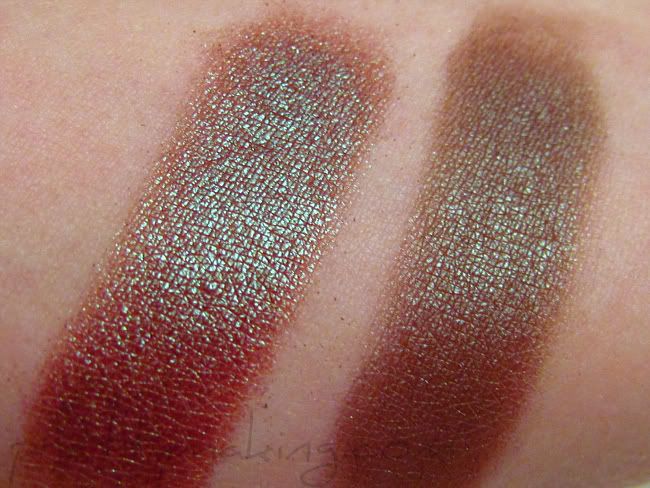 Left: Wet N Wild, right: Mac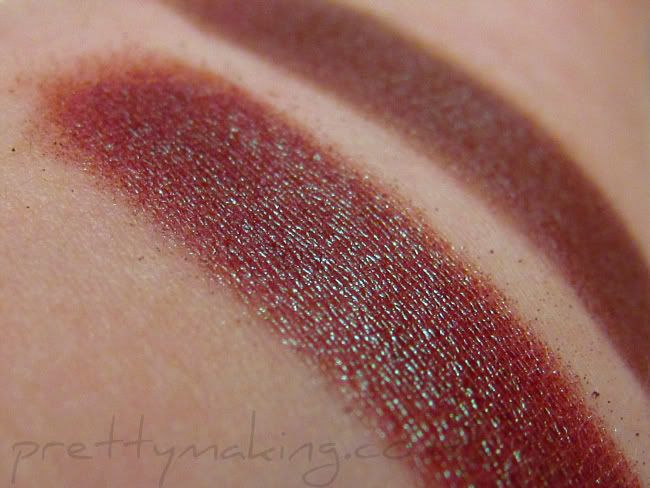 Wet N Wild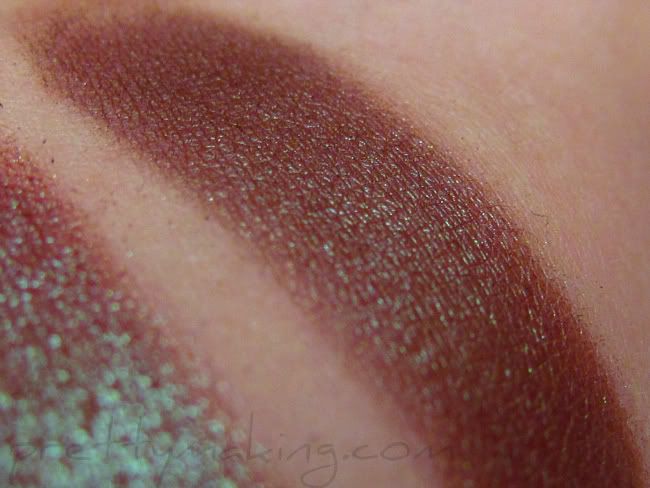 MAC
MAC's "Club" has a softer brown base, where as Wet N Wild's has a strong, very terracotta-red base. At the same time, the shift of green in Wet N Wild's shadow over just a primer is far stronger with more iridescence than MAC's, where the green shift is more subtle and it has a muted sheen. Wet N Wild's is easily the more pigmented of the two, where MAC's does take some building up to get some opacity. However, some may feel that MAC's is more wearable for day-to-day due to how it is the quieter of the two. For a final note, MAC's is softer and more finely milled than Wet N Wild's shadow.
Too Faced Shadow Insurance + black base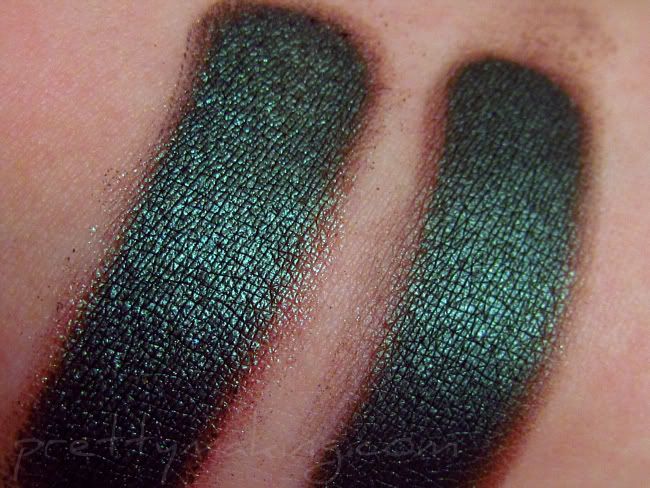 Left: Wet N Wild, right: Mac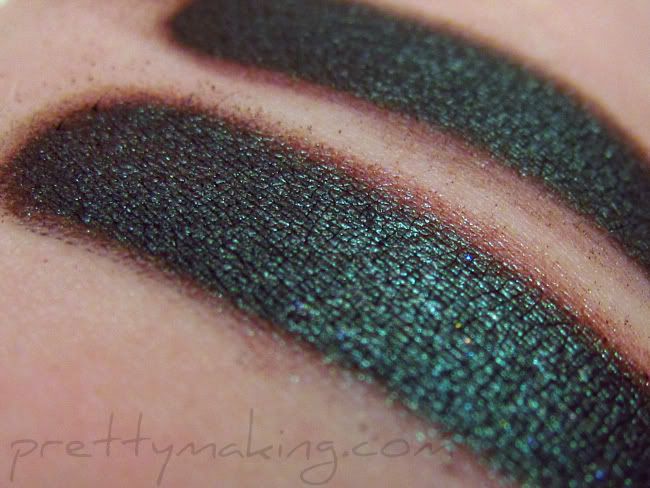 Wet N Wild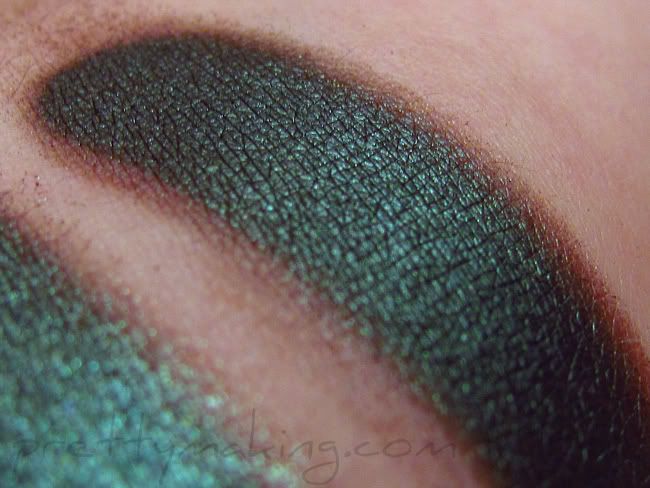 MAC
Here it becomes more difficult to see any difference between the two. When over a black base, the green duochrome really stands out in both the shadows. What stays the same is that Wet N Wild's maintains a stronger sheen to it, and is shinier-looking than MAC's "Club." The green between the two is very similar, with a deep, jewel-like green. The Wet N Wild shadow seems to have some subtle blue and yellow glitter within it (as seen in second picture) but it is hardly noticeable from a distance. MAC's does not have glitter like that and remains the softer shadow in texture.
Do I have a preference between the two? You could really go with either. I really like how blendable and subtle MAC's "Club" is, and it has the better texture overall… but there is also no denying that in terms of price, Wet N Wild wins out. (I mean, come on, $4.99 and you get eight highly-pigmented shadows!)
I hope these swatches were helpful.